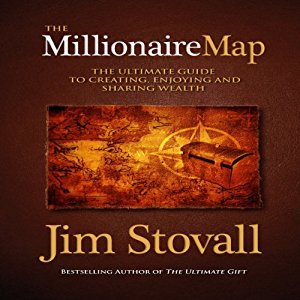 On the heels of the best-selling success of The Ultimate Gift and the major motion picture from 20th Century Fox based on that book, Jim Stovall brings you The Millionaire Map.
Written by: Jim Stovall
Narrated by: Stanley Morris
Length: 4 hrs and 9 mins
Release Date: 11-06-13
Publisher: Sound Wisdom
Listen to an audio sample

Audiobook Description
Watch The Millionaire Map video trailer
This is the book I wished was available 30 years ago when I was desperate and broke with only a dream of one day being a millionaire. Now, as a multimillionaire, I want to share the wisdom I've gained from the journey and provide other travelers with a map to guide them on their journey." (Jim Stovall)
The Millionaire Map reveals…
You can't expand your wallet until you expand your mind. Becoming a millionaire is not just about all the things you want to have, but it's about the things you want to do and give. In order to climb to the financial peak, you've got to crawl out of the valley of debt. You will either voluntarily control your money now, or it will force its control on you later. The vast majority of people never arrive at their destination – not because they don't have what it takes but because they don't manage what they have.
Jim Stovall has enjoyed success as an author, athlete, investment broker, and entrepreneur while dealing with the challenge of blindness. During his remarkable life, Jim has been a national champion Olympic weightlifter, as well as the author of 20 books. In addition to his personal achievements, Jim was honored as the 2000 International Humanitarian of the Year, joining Jimmy Carter, Nancy Reagan, and Mother Teresa as a recipient of this prestigious award. As cofounder and president of the Emmy Award-winning Narrative Television Network (NTN), Jim has also helped make movies and television accessible for America's 13 million blind and visually impaired people and their families.
©2013 Jim Stovall (P)2013 Jim Stovall
Get the Jim Stovall Bundle and Save 30%
See all of the other titles by Jim Stovall. Click a cover below.