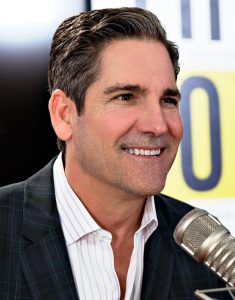 Grant urges his followers and clients to make success their duty, responsibility, obligation, and to rise above out-dated, unworkable middle class myths and limitations in order to achieve true freedom for themselves and their families.
His straight-shooting viewpoints on leadership, the economy, small business, retail sales, employment, and headlines have made him a valuable resource for media seeking commentary and insights on real topics that matter.
Amongst Grant Cardone's stellar accomplishments are:
Internationally renowned business and sales expert.
Author of 7 sales and business books, including New York Times best seller "If You're Not First, You're Last" and Axiom Award Winner "Sell or be Sold."
Creator of customized sales training programs for Fortune 500 companies, small businesses, success-minded individuals and entrepreneurs.
A dynamic, highly sought after international speaker who captivates and motivates audiences with his engaging, entertaining and informative speaking style.
Offers practical insights on sales, marketing, branding and entrepreneurship via print, digital, TV and radio media.
Regularly appears on Fox News, Fox Business, CNBC, and MSNBC, and contributes to Entrepreneur.com, and Huffington Post.