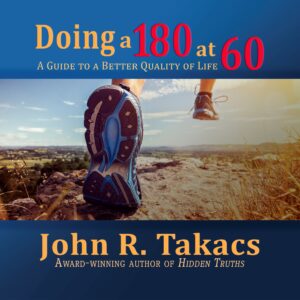 Audiobook Description
ABOUT THE AUDIOBOOK?
How many times have you heard that getting old sucks? What if it didn't have to be? What if getting older actually meant getting better?
John Takacs takes us on an adventure and shares his journey of transformation into a world-class triathlete in his age group. Along the way he shows us that many of the adages about aging are faulty. Join him in taking steps to:
Change your diet and change your life
Start moving and exercising more
Go back to doing the things you love
You can do a You-turn, but only if you start the process now. If you want a better quality life at any age, this book is for you.
ABOUT THE AUTHOR – John R. Takacs
John Takacs is the author of the award-winning novel The Take-Us, an adventure thriller about an inventor who modifies a car to run without gasoline, which results in the awakening of Middle Eastern sleeper cells across the continent.
In 1971 John was combat wounded while serving with the famed 101st Airborne Division in Vietnam. The Huey helicopter he was in was shot down. John was put on a medevac plane to Japan, and a few days later was off-loaded on a stretcher at Great Lakes Naval Hospital where he was awarded the Purple Heart Medal.
Always the adventurist and outdoor enthusiast, John competed in the Ironman 70.3 World Championship in 2016 at the age of sixty-five. He lives with his wife Monika in Pioneer, California.
***
Visit John at his website, JohnRTakacs.com, for further information, photos, and videos of his journey.
Copyright © 2017 John R. Takacs