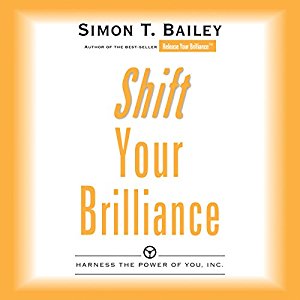 Written by: Simon T. Bailey
Narrated by: Simon T. Bailey
Length: 2 hrs and 24 mins
Release Date:09-24-14
Publisher: Khristian Dentley, Dently Boy Production House
Listen to an audio sample

This title is also part of the Brilliant Bundle with more than 65% savings.
Audiobook Description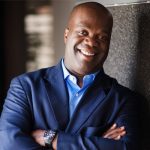 Buckle up, start your engine, and shift into gear – it's time to begin a brilliant audio experience with Simon T. Bailey. Simon's rich, soulful voice and famous infectious laugh are only part of what makes this audio experience so engaging and different from most. An attractive mix of entertainment, motivation, and practical instruction, the Shift Your Brilliance audio comes with additional stories and commentary from the author.
Simon's masterful narration guides the listener smoothly through the steps and possibilities of becoming a "shifter". A shifter, it is explained, is one who is ready to create the future in uncertain times. They do not find themselves shifted about, unhappy, and wishing for better luck. By applying the principles and suggestions offered, the listener can experience profound life changes.
So if you want to sharpen your focus and discover new ways to respond to life's uncertainties, grab Shift Your Brilliance, put on your headphones, and experience your own shift in brilliance.
Brilliance is a decision.
It's time to disrupt your current reality. Experience your shift into brilliance. This audiobook is your roadmap, your call to action; your opportunity to create accelerated results professionally, personally, and financially. It is time for you to turn every day into a brilliant breakthrough.
©2014 Simon T. Bailey (P)2014 Simon T. Bailey
See these other Simon T Bailey titles here at Better Life Audio.  Click a cover below.